The United Nations has declared 2023 as the International Year of Millets. Since that was at the initiative of India, which also accounts for a fifth of the world's millets production, the Narendra Modi government would be expected to do something different this year to promote these "nutri-cereals" — going beyond just spreading awareness, or organising "special millets lunch" for parliamentarians and journalists.
So, what can the government do?
The positives of millets
Millets score over rice and wheat in terms of minerals, vitamins, and dietary fibre content, as well as amino acid profile. Polished/ white rice, for instance, contains only 2-4 mg/ kg iron and 15-16 mg/ kg zinc. Wheat has more of both — iron (37-39 mg/ kg) and zinc (40-42 mg/ kg) — but its protein quality is poorer than even that of rice. Up to 80% of wheat's average 13% protein content comprises glutens, known to trigger gastrointestinal and autoimmune disorders in many people.
Bajra (pearl millet), on the other hand, has iron, zinc, and protein levels comparable to that of wheat, but it's gluten-free and has more fibre. The rotis from bajra makes one feel fuller for longer, as they take more time to digest and do not raise blood sugar levels too fast.
The same nutritionally superior traits — which significantly address the problem of "hidden hunger" arising from the consumption of energy-dense but micronutrients-deficient foods — are present in other millets too: jowar (sorghum), ragi (finger millet), kodo (kodo millet), kutki (little millet), kakun (foxtail millet), sanwa (barnyard millet), cheena (proso millet), kuttu (buckwheat) and chaulai (amaranth).
Nutritional advantages apart, millets are hardy and drought-resistant crops. This has to do with their short duration (70-100 days, against 115-150 days for rice and wheat), lower water requirement (350-500 mm versus 600-1,250 mm) and ability to grow even on poor soils and in hilly terrain.
Where millets lag
However, millets aren't the first choice either of consumers or of farmers.
For the poor, both in urban and rural areas, rice and wheat were once aspirational foods. But thanks to the Green Revolution and the National Food Security Act of 2013, two-thirds of India's population receives up to 5 kg of wheat or rice per person per month at Rs 2 and Rs 3/kg respectively. The Modi government has, in fact, made the issue of the two fine cereals free of cost from January 2023, further tilting the scales against millets.
Even for the better-off, rolling rotis is easier with wheat than millet flour. This is because the gluten proteins, for all their drawbacks, make the wheat dough more cohesive and elastic. The resultant breads come out light and fluffy, which isn't the case with bajra or jowar.
For farmers, low per-hectare yields — the national average is roughly 1 tonne for jowar, 1.5 tonnes for bajra and 1.7 tonnes for ragi, as against 3.5 tonnes for wheat and 4 tonnes for paddy — are a disincentive. With access to assured irrigation, they would tend to switch to rice, wheat, sugarcane, or cotton.
The Indian Agricultural Research Institute (IARI) has bred Pusa-1201, a hybrid bajra that gives an average grain yield of over 2.8 tonnes and potential of 4.5 tonnes per hectare. It matures in 78-80 days and is resistant to downy mildew and blast, both deadly fungal diseases. The grains have 13-14% protein, 55 mg/ kg iron (normal level is 50 mg/ kg) and 48 mg/ kg zinc (normal: 35 mg/ kg). But the absence of government procurement at minimum support price (MSP), unlike in paddy and wheat, would make farmers hesitant to grow even this high-yielding and naturally bio-fortified bajra, suitable for both post-monsoon kharif (June-July sowing time) and summer (after harvesting of potato or mustard in February-March and with 1-2 irrigations) cultivation.
The chart shows how millets have been reduced to "orphan crops" over the years, planted largely in marginal areas prone to moisture stress. Between 2003-04 and 2021-22, India's millet output has actually fallen from 21.32 million tonnes (mt) to 15.92 mt. Almost 98% of it is just three cereals — bajra (down from 12.11 mt to 9.62 mt), jowar (6.68 mt to 4.23 mt) and ragi (1.97 mt to 1.70 mt) — with small millets accounting for the rest (0.56 mt to 0.37 mt).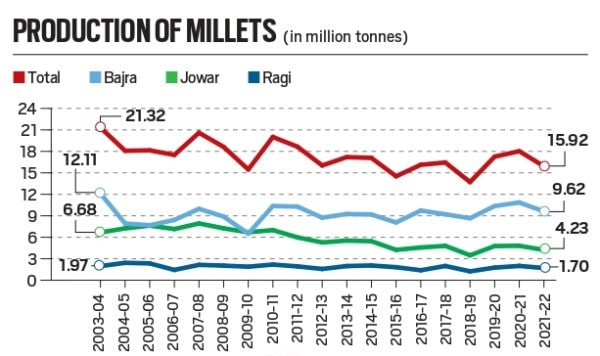 The solution in schools
India, according to the latest official data for 2021-22, has 26.52 crore children enrolled in 14.89 lakh schools from the pre-primary to higher secondary levels. In addition, 7.71 crore children and 1.80 crore pregnant & lactating women are being provided supplementary nutrition in 13.91 lakh anganwadi care centres.
This is potentially a huge "market" for millets. Given the dire need to alleviate micronutrient malnutrition — especially iron and zinc deficiency that are major causes of anaemia and stunting respectively, while also contributing to impaired cognitive performance and vulnerability to diarrhoea — millets could be made a staple part of children's diets.
Every schoolchild and anganwadi beneficiary can be served one daily hot meal based on locally-sourced bajra, jowar, ragi, kodo, or kutki, along with a 150-ml glass of milk and one egg. It will help combat hidden hunger, besides giving a boost to crop diversification by creating demand for millions of small millet, dairy and poultry farmers.
The Centre has two existing schemes — Pradhan Mantri Poshan Shakti Nirman and Saksham Anganwadi & Poshan 2.0 — with a combined budget of Rs 30,496.82 crore in 2022-23. These can be better leveraged by making them more millets-focused.
The public distribution system (PDS) can continue supplying rice and wheat that are better suited for large-scale nationwide procurement, movement, stocking, and marketing. MSP procurement of millets should be part of a decentralised nutritional programme specifically targeting tomorrow's citizens.
Besides midday meals, millets could be served in the form of ready-to-eat foods such as cookies, laddu, murukku, nutrition bars, and extruded snacks (think healthier versions of Maggi, Kurkure, or Cheetos).
The Centre could fund any state willing to procure millets specific to their region exclusively for distribution through schools and anganwadis. Odisha already has a dedicated millets mission that undertook procurement of 32,302 tonnes worth Rs 109.08 crore, mainly of ragi, in 2021-22. Rajasthan, Uttar Pradesh, and Haryana might want to do the same in bajra, just as Maharashtra may for jowar, Karnataka for ragi and Madhya Pradesh for kodo/ kutki. They can, of course, add milk and eggs. Some are already doing it: Karnataka and Gujarat in milk and Tamil Nadu, Andhra Pradesh, Telangana and Odisha for eggs.
A combination of central funding with decentralised procurement linked to nutrition goals — specifically the eradication of hidden hunger among school-age children — can do for millets what the Food Corporation of India achieved with rice and wheat.
At least 14 dead in armed attack on prison in Mexican border city Juarez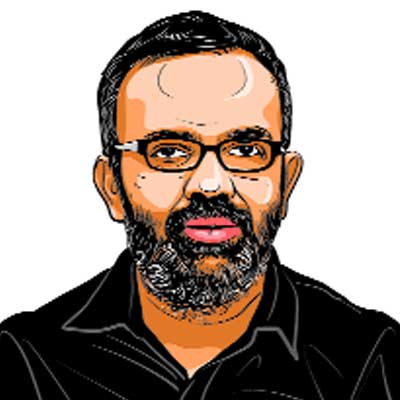 Harish DamodaranThe writer, national rural affairs and agriculture editor for The Indi… read more